The beautiful territory of 'la Tuscia', an area within northern Lazio, is truly one of Italy's hidden gems. Lying nestled between Rome, Tuscany, Umbria and the Mediterranean Coast, it is a land rich in history, art and natural beauty. This relatively undiscovered corner of Italy spanning an area of only 3,612 km² comprises a varied yet compact landscape of vast nature reserves, volcanic lakes, hot springs, valleys and gorges, peppered with Etruscan and Roman archaeological sites, elegant Renaissance villas and picturesque medieval villages.
The historical name Tuscia derives from the Pre-Roman population of the Etruscans, who were named by the Romans as Tusci or Etrusci, the earliest urban civilization in the northern Mediterranean for which this area of the world is famous for. This once highly advanced population, at its height between the 8th and 5th Century BC, built their towns high on the rim of ravines formed by streams feeding into the Tiber.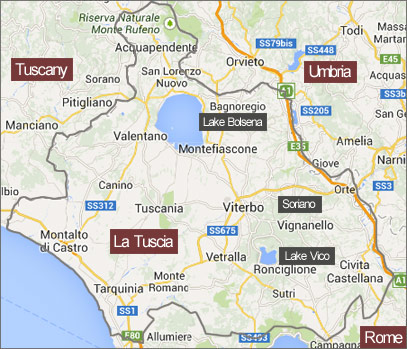 Many of these settlements later became the fortified medieval towns we see today carved directly into the rock. Etruscan settlements and frescoed tombs remain scattered throughout the province of Viterbo's countryside and mountainous terrain. The two most ancient of Etruscan cities both within an easy drive from Viterbo are Tarquinia and Tuscania.
The affluence and variety of history and art that originated during the Renaissance period, also characterised the area of Viterbo, and this can be attributed to the Great Families of the region, the Orsini and the Farnese Families. The small town of Soriano nel Cimino's crowning Castle Orsini is one of the best preserved in northern Lazio and together with Palazzo Orsini and The Sacred Wood in Bomarzo, demonstrates the family's once powerful command over the area. However the family who left their greatest legacy was undeniably the Farnese Family, and their monumental Farnese Palace in Caprarola is a testament to this. Over the centuries Farnese Pope Paul III and Cardinal Alessandro Farnese truly encouraged the development of the arts throughout central and northern Italy that so enriched many of the country's cities, including Rome.