Bagnaia's Villa Lante.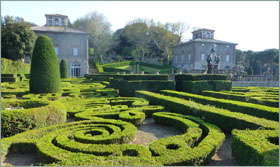 Tucked away in Tuscia's countryside are the gardens of Villa Lante, one of Italy's most famous Mannerist gardens of the Renaissance period. This splendid creation within the ancient small town of Bagnaia, a short drive from Viterbo, is a perfectly proportioned and richly detailed masterpiece featuring, ornamental streams, cascades, terraces, fountains and grottoes founded by Cardinal Gamara. To this day water lives and flows throughout these gardens around its maze and twin hunting lodges, designed by Vignola, all set within an 18 hectare park.
Bomarzo's Sacred Wood / Park of Monsters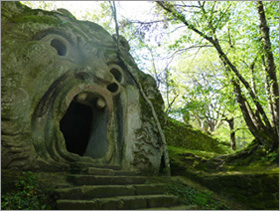 Set within the valley below the town of Bomarzo and overlooked by the impressive Palazzo Orsini, the towns famous Park of Monsters is a bewitching world of surreal and mythical rock sculptures.  Founded by Prince Vicino Orsini, this magical wood was created in memory of his wife in the late 16th Century. The natural volcanic bedrock was carved and transformed into huge creatures deriving from mythology. Throughout the wood's winding paths and terraces, around its temple and leaning house can be found; a dragon, a turtle, Hannibal's elephant and an ogre, creating a truly unique setting. Artists have continued to be inspired by this park, including the Spanish surrealist artist Salvador Dalì.
Caprarola's Farnese Palace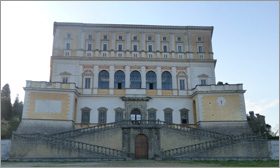 One of the finest examples of late Renaissance architecture can be found in the town of Caprarola's, Farnese Palace. Built for Cardinal Alessandro Farnese in the 16th Century on the foundations of an old pentagonal shaped fortress, this magnificent palazzo and gardens dominate the surrounding mountainous countryside overlooking the Tiber Valley. The frescos decorating the palace's interior walls are a beautiful monument to the finest Italian painting from the late 16th Century.
See more pictures of the villas and gardens around Tuscia >>