Our charming self-catered homes offer well equipped and comfortable accommodation in the heart of the Tuscia region. An area which has been home to our family for generations, each of our properties are geared as a home from home with all you could need to enjoy holidays throughout the year with family and friends. As an Anglo-Italian family with generational ties to the small medieval town of Soriano nel Cimino, our Tuscia Lets headquarters if you like, we are lucky to have been holidaying in this part of the world for many years and have been renting out properties in and around Soriano for over seven years.
Each of our homes have beautiful village and countryside views and are ideally located within Tuscia with easy access between Rome (70km) to the south and Florence (150km) to the north, creating the perfect base for day trips yet just minutes from lively town and village life with great amenities, allowing each of our guests the opportunity to discover a truly authentic Italian way of life.
Lovingly and tastefully restored and decorated our properties are specifically designed with open plan family living in mind. Each has a fully equipped kitchen making our accommodation ideal for home cooking and socialising, while for nights out each home benefits from being close to a number of superb local restaurants. When arriving at one of our properties begin your stay by sampling some complimentary local produce from our welcome basket, a region famed for its food and wine, we are delighted to share with our guests our local knowledge of the area and are more than happy to recommend good restaurants, wine bars, places to visit, shopping tips etc.
We hope you enjoy staying in 'la Tuscia' as much as we do.
Our Properties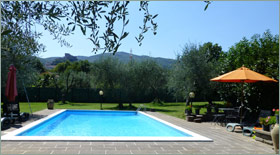 Villa Casa Renata
Sleeps 4/6
2 bathrooms/2 bedrooms
Private Pool & Garden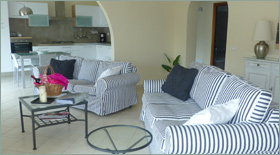 Apartment Oleandri
Sleeps 4/6
2 bathrooms/2 bedrooms
Town Centre Location